Five Pros of Purchasing Used Cars
Posted Friday, Jul 28, 2023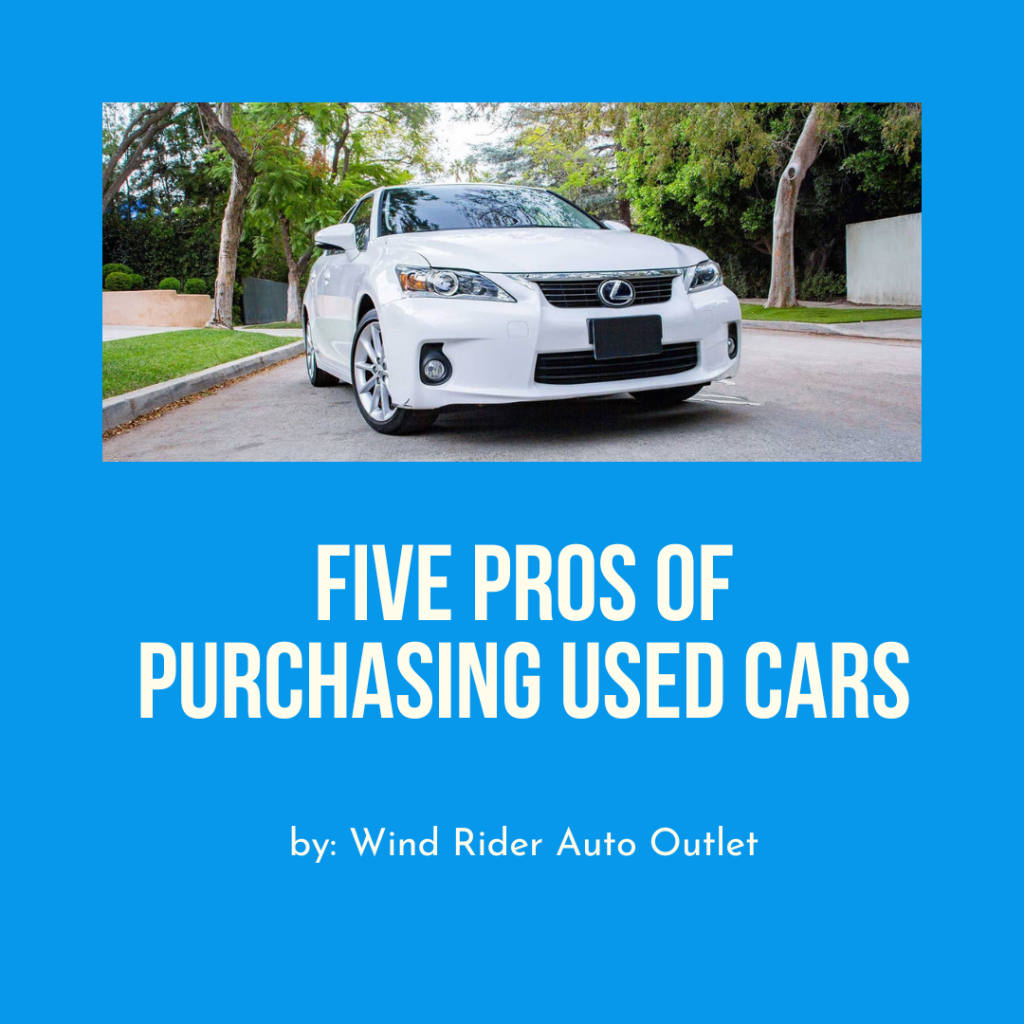 Buying a used car can be tricky. Many factors come into play when determining the best vehicle options in the used car market. Car buyers are often hesitant to choose vehicles from used dealerships. They struggle to establish their trust in used car dealerships. The top concerning factors for most car buyers must include the quality of vehicles, hidden problems, and market value. If you plan to opt for used car finance, we have covered some pros of purchasing used cars to get you started with the process.
The Advantages of Buying Used Cars
Used cars face a lot of backlash due to performance issues and quality problems. While some buyers blame the vehicle for it, the real problem lies with used car dealerships. With many dealerships across Virginia offering easy finance services, buyers often become victims of fraudulent sales. However, finding the right dealership can help you resolve such problems.
1.   Used Vehicles Can Save You Buying Costs
Buying new vehicles can be expensive for some buyers. Despite many options in the market, new cars can be costly due to high upfront payments, insurance costs, and other expenses. If you opt for a used car, you can significantly cut buying costs to suit your preferences. Many used car finance dealerships have large inventories of vehicles to choose from.
You can explore the top-selling models, compare their features and prices, ask for expert opinions, and decide on the best option. Moreover, you can take your desired vehicle out for a test drive to see if it suits your driving goals.
If you are unsure about buying used cars, you can also seek help from an automobile expert in your area to thoroughly inspect the car before buying. You may want to avoid those dealerships that hesitate to allow third-party inspections.
2.   Used Cars Can Save You Depreciation Costs
Many used car buyers overlook an important factor that saves them costs in the long run. Used vehicles have low depreciation costs, making them ideal investments. If you purchase a new car, you pay high upfront costs that significantly drop when reselling them. To avoid such financial impacts, you may consider quality used cars.
While considering used car dealerships, you may focus on large inventories to pick the best option. Some dealerships lure buyers into purchasing hard-selling cars. We recommend thoroughly researching your preferred vehicles before heading to the used car market.
If it is your first time buying a used car, you can seek an auto expert's help in making an informed selection. If you like a different car, you can take some time to do your research before settling for an easy finance deal.
3.   Used Vehicles Have Low Insurance Costs
Car insurance is one of the major concerns most buyers have when choosing a pre-owned vehicle. Insurance premiums depend on the car you choose. However, you must remember the rule of thumb about auto insurance policies. The newer your vehicle is, the more insurance costs you will have to bear.
New vehicles have high insurance costs. You may prepare yourself for spending a fortune when considering new cars. While valid, used cars can save you from such problems. You can save significant costs on older models.
To ensure clarity before buying a vehicle, we suggest checking the insurance costs of your preferred vehicles and comparing them to find the best fit. More importantly, seeking an expert's advice can be handy in such scenarios. Do not fall for every claim used car dealers make.
4.   Some Used Cars Have Warranties
The used car market is full of vehicles turned in soon after their first purchase. Car buyers often lease vehicles and change their minds after a few months. Such people sell their cars to used car dealers for a good price and buy their desired vehicle. What many do not know is the unused warranty. If you need a used car that replicates the new car experience, such vehicles can be your ideal fit.
Before you make up your mind and head to a dealership, it is worth noting that warranty-based vehicles may not be available at every dealership. You may focus on used car finance dealers with large inventories to land a good opportunity.
Moreover, you can create a list of (recently launched) cars to narrow your preferences in terms of warranty. Please keep in mind that such cars may be more costly in terms of upfront payments and insurance costs.
5.   Used Car Dealerships Have Many Options
Although this statement is not true for every pre-owned vehicle dealership, you can still find many reputable showrooms with large inventories. Some buyers overlook the importance of large inventories and buy cars from small dealerships. While there is no harm in doing so, smaller dealerships may lure you into buying vehicles available at their lot.
Used car buyers typically have budget preferences that drive their buying decisions. They like it when they have more options to compare and decide. Another important factor is the credibility of a dealership. Large-inventory dealerships have a broad network across the state
Moreover, a large inventory allows you more room for negotiation. You can take a test drive, evaluate repair costs (if any), and propose a good price to the dealership. Seeking an auto expert's help can support your negotiation.
How to Find the Best Used Cars With Easy Finance Options?
If the above factors have helped you make up your mind about buying a pre-owned vehicle, we have a few recommendations to make. Firstly, you may thoroughly research dealerships in your area for easy financing deals. Secondly, avoid rushed decisions regardless of how attractive a car looks. Lastly, you may seek an expert's assistance to make an informed decision in the used car market.
The Takeaway
The above factors can help you plan your used car finance. You can explore dealerships across the city and check their customer reviews to narrow your preferences. If you need a used car dealer that understands your goals, offers you the best car finance deals, and has a large vehicle collection, Wind Rider Auto Outlet awaits you. Get in touch with us today to discuss your options.